Load Securing is Compulsory
Inadequate load securing has consequences. There are laws and ordinances that describe precisely what load safety requires. Paragraph 22 of the Road Traffic Act (StVO) determines, for example, that certain goods must be secured for transport in such a way that they cannot roll, fall over or slide during evasive action or braking manoeuvres. It is also an administrative offence to cause noise. The driver, loader or operator of the vehicle is always responsible for safety. All the involved parties may be fined or given points on the register of fitness for driving in Flensburg in the event that existing regulations are violated. Prison sentences may be imposed in the event of personal injury.
VDI 2700 – Guidelines for Securing Loads
The VDI 2700 guidelines have been valid now for more than ten years as the basic manual for the securing of loads on road vehicles. The series of guidelines was published in 2004 and has been the central work for affected commercial drivers, shippers and hauliers as well as for judges and the police ever since. VDI 2700 describes the forces exerted on the load bed, how goods can be secured and includes examples of how specific packaging items can be secured. It also includes instructions, procedures and calculation models for different modes of transport, load securing methods or aids for securing loads on trucks.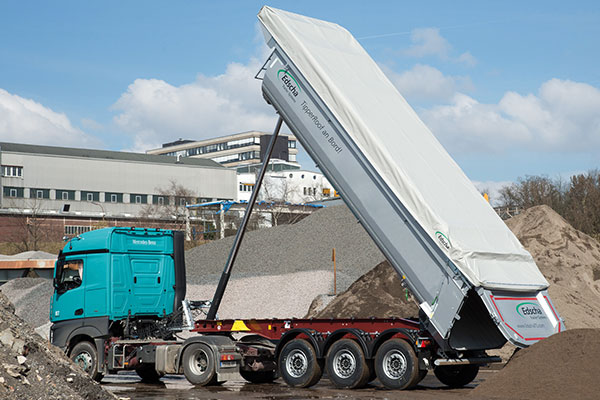 Safe Transportation on Open Load Beds
The requirements for roofs, for example specifically for securing loads in modern tipper trucks, sound simple: the roofs should be fast, safe and robust. They should also be suitable for use / retrofitting on any tipper. And not least they should be adaptable to many different tipper versions.
Edscha TS provides a modern sliding roof system with many further advantages in the form of its TipperRoof. For example, improved aerodynamics, optimised load volume from the bow shape of the roof and the robust function and good sealing of its innovative roller system.
TipperRoof also saves diesel – a saving of up to 10% according to calculations by the IFI Institute (compared to an open tipper at a constant speed of 85 km/h on level ground). In practice this results in potential savings of approximately 800 €/annum with average use. This is not only achieved because this roof can remain closed at all times except during loading but also because of its aerodynamically optimised shape when closed.
The reliable seal created against water ingress by its large tarpaulin surround and reliable tarpaulin attachment also mustn't be forgotten. Effective, inexpensive and long-lasting insulation against heat loss is another benefit, achieved through the cushion of air under the closed roof tarpaulin.
Fast, Safe and Efficient
The bottom line is that TipperRoof offers safe and effective cover to prevent load loss because it becomes the norm to drive with the tipper covered, as the roof is so easy to handle. The roof can still normally remain closed during tipping. One important advantage for the driver is the automatic, self-stopping electric drive for the Edscha TS TipperRoof. It opens and closes at the press of a button and can be controlled using a switch in the driver's cabin, an outside control unit on the trailer, via an app on a mobile phone or using a remote control.
It is good to know that the Edscha TS TipperRoof both saves time and costs and reduces insurance premiums. Last but not least the modern TipperRoof covers are also eligible for incentive payments in line with 'De-minimis', an incentive programme run by the Federal Office for Goods Transport (BAG). (More information on De-minimis can be found in a separate blog entry)