The Fundamental Requirements
The De-minimis programme is carried out by the Federal Office for Goods Transport. Companies must operate road haulage within the meaning of § 1 of the Road Haulage Act (GüKG) at the time of application and must own or operate at least one heavy goods vehicle in the Federal Republic of Germany that is authorised for use on public roads and liable for tolls. A heavy goods vehicle within the meaning of the 'De-minimis' regulations is a vehicle that is categorised exclusively for road haulage and has a maximum permissible weight of at least 7.5 t.
Up to 2,000 Euros are approved as incentives per eligible vehicle in the 2019 funding period. The highest level of funding per company is limited to 33,000 Euros. There is no legal entitlement to the granting of funds. The application also needs to be made before the beginning of the incentive initiative.
What is funded?
Companies that are entitled to contributions can receive funds in the following initiative categories as part of the 'De-minimis' incentive programme:
Vehicle-related initiatives, for example the purchase of driver assistance or particle reduction systems or costs for the paid use of safe parking locations in Germany.
Personnel-related measures such as costs for the safety equipment / work clothing for drivers or loading staff / dispatchers.
Measures to increase efficiency, for example the purchase of telematics systems or software for the representation, evaluation, administration or archiving of data from digital tachographs.
Both new and used tyres are also eligible for funding if they comply with certain requirements, for example with regard to reduced rolling noise.
The initiatives that are eligible for funding are described in detail in a so-called positive list that is available on the website of the Federal Office as a PDF file. Measures that are compulsory on the basis of laws, ordinances or administrative provisions are not eligible for funding. Consultancy companies that are experienced in verification and in submitting the applications can be found online if you do not wish to do that work yourself.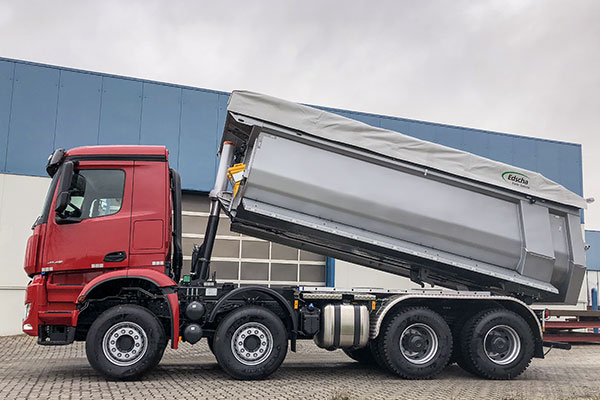 Clever Funding for clever Solutions
Incidentally: if in the future you would like, for example, to equip your tipper truck with a modern sliding bow roof such as the Edscha TS TipperRoof then you can also rely on a financial incentive based on the De-minimis regulations.
For more information on the De-minimis incentive programme please refer to the website of the Federal Office for Goods Transport (www.bag.bund.de). The application deadline for the 2019 incentive period ends on September 30, 2019.