Driving in a convoy
Tests have been underway for some time in the auto industry, with vehicles from Tesla or Google, for example. In a field trial, semi-autonomous trucks from Volvo, Scania, MAN, Daimler, DAF and Iveco travelled across Europe. In the spring of last year, DB Schenker used semi-autonomous trucks on the A9 between Nuremberg and Munich. The company tested electronically assisted driving in convoy or 'platooning'. Trucks are guided by assistance systems, GPS and radar at a very short distance behind each other. As a result, this makes better use of the road and takes advantage of driving in the slipstream to save fuel. The first truck determines direction of travel and speed, all others follow based on wireless communication.
First practical deployment
The Swedish robotic vehicle start-up Einride and the German logistics giant DB Schenker have taken even more concrete steps. In Sweden, they are driving an electric truck entirely autonomously from department store to department store. The participating companies celebrate it as a breakthrough for the technology – even if the drive on public roads is very short. Later this year, both companies expect regular road approval for the vehicle from the Swedish authorities. If that happens, a driverless electric-powered truck could carry cargo on public roads for the first time – no longer as a test project, but in regular business operations.
New trends show the way
All these test drives reveal two trends: first, the Internet of Things (IoT) and, second, partially or fully autonomous driving. IoT technologies allow digitally upgraded trailers, freight containers or transport packaging to report their position at any time, transmit important data like cargo temperature or humidity, or transfer information for the automated handling of goods. However, all this leads to a data volume for which the current mobile phone networks in Germany are not yet ready. The same applies to the partially or fully autonomous driving of trucks, which is technically already being tested by Google or Tesla, for example, but is still not very roadworthy. It will take time for cars and trucks to drive autonomously.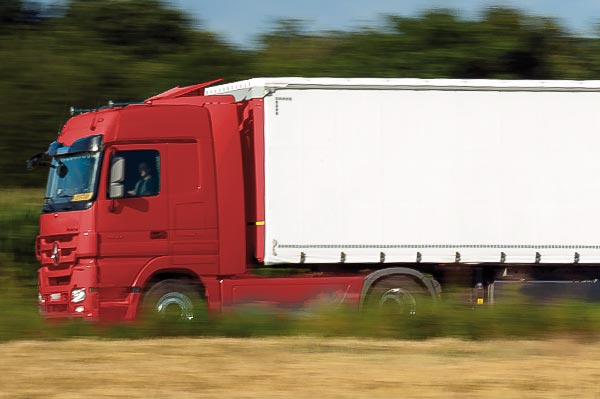 Changing job profile
In all likelihood, technical innovations will change the job description of the truck driver in the future. The trucker is increasingly becoming a transportation manager, responsible for their vehicle and cargo, for handing over to the customer, and for complying with all legal requirements. Last but not least, only the driver is able to respond quickly and safely when technology fails. In this sense, the driver will remain behind the wheel for a long time and have an indispensable job.
Without roofs, nothing works
One thing is certain: nothing will work in the future without innovative roof solutions. Independent of autonomous driving, they guarantee fast, cost-effective loading, the security of the transported goods and, ultimately, the safety of other road users. Edscha TS will be heavily involved with our developments and innovations. The Edscha TS E-Drive is one example.