The times have changed
There are many reasons for a lack of personnel in companies nowadays. These include not only the hard statistics, but also the changing expectations of young drivers towards their work. Now, compatibility with family, friends and leisure activities are increasingly important for a driver. More and more companies offer options to ensure this compatibility and keep drivers.
Drivers have a future
The discussion about 'autonomous driving' makes clear that the job of the professional truck driver will continue to exist. What will disappear is the driver who slaves around the clock, as the truck driver of the future will not have to work so hard. Modern technologies make driving easier and more comfortable – like the fully automatic Edscha TS E-Drive, which opens and closes the roof at the touch of a button. The driver of the future will drive and steer less in the cab, as a computer will take care of most of that. The work will include new logistics tasks, making the job even more diverse and exciting.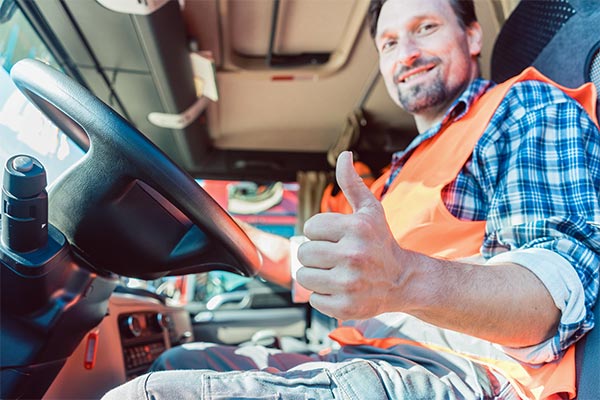 Recruiting good drivers
But how do companies counter the growing shortage of skilled workers? On the one hand, of course, with financial incentives and performance-based payment models. This also includes improved working hours and working conditions. Modern technology, efficient organization and trucks that 'drive themselves' make it easier for drivers to work. Then there are the gym memberships, the company barbecues or extra days off for special events. Small companies, of course, have the advantage of a 'family' atmosphere.
Showing more initiative, developing new ideas
But these things will not be enough to remedy the shortage of suitable drivers in the future. Programs to develop young talent, improved training and better regulatory conditions are all important here. The most important thing, however, is that companies are creative. This includes not being passive, but actively presenting the image of a future-oriented company and attractive employer. The goal must be to stand out from the competition and show what you can do. Only companies with the best job offers and the best references will win the best employees. This is another reason, for example, to take part in regional trade fairs or events – potential young talent can experience first-hand how exciting the profession can be and the security your company offers.
Good employees are also increasingly sought after on the Internet today: on classic job boards as well as on specialized platforms for truck drivers and logistics companies. Even Facebook is a source of job hunting, especially for young people.
Securing the future
The search for good drivers and employees as well as for qualified young talent requires the following motto: don't wait, start now. This is also about securing the future of the company. As the saying goes, employees are the highest asset of a company – these are not just empty words, but the future of the business.