What matters to Edscha TS
There are different definitions for the term quality. On the most basic level, quality is the degree of alignment of the claims and expectations of a product and its properties. For an Edscha TS roof, this means more than just the supply of a soft top made from carefully processed materials; for Edscha TS, quality means roofs that stand the test of time, thanks to decades of continuous technological development and innovation.
A brand that can do more
Edscha TS is the inventor of the sliding roof for trucks, the market leader in Europe and a worldwide name in roofs – something that we live up to, day after day. Keywords for Edscha TS include loading time, safety, easy operation, volume and variability. The resulting requirements and demands on roofs are diverse. But innovative Edscha TS ideas provide always new and individual solutions.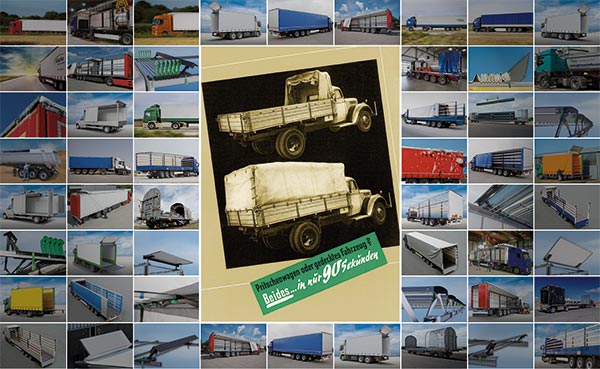 Smart solutions
One example is the Edscha TS E-Drive, an intelligent drive designed to greatly simplify the operation of the popular Edscha TS drawbar. The roof can be opened and closed at the press of a button – via a switch in the cab, on the outside of the trailer, or an app in your smartphone. The Edscha TS E-Drive has very low power consumption and can be connected directly to the existing electrical system without additional wiring. In short, it is faster, more convenient, more cost-effective and saves energy. And it shows how the brand Edscha TS works in the present and looks to the future.
Young enough for the next 50 years
Edscha TS, the company and its products, are ready for the next 50 years. Our ideas keep us alive and well. Maybe that's because Edscha TS can listen to the demands of industry and develop what businesses and drivers need. Always practical, always with an ear to the market.