New guidelines
Not every tarpaulin is suitable for every tarpaulin system. For the standards and guidelines that determine the quality and properties of a commercial vehicle tarpaulin, leading manufacturers in the industry have joined forces in ITRS e.V. (Industrieverband Technische Textilien - Rollladen - Sonnenschutz e.V.). Significant solutions are developed in the BKTex specialist group (Bundesvereinigung Konfektion Technischer Textilien), in which Edscha TS is also represented. The results represent current quality and safety standards for technical textiles, which also include truck tarpaulins. The brochure "Guideline for the production of commercial vehicle tarpaulins with load securing properties and additional equipment" shows us what all has to be observed.
Tarpaulin basics
Truck tarpaulins generally consist of a textile fabric with a plastic coating. PVC (polyvinyl chloride) is used for this purpose. The result is a material with excellent properties, especially for truck tarpaulins, which have to be particularly robust and resistant. For example, particularly durable and tear-resistant, windproof and waterproof as well as UV-resistant. Of course, this also makes the use very diverse. In addition to use as truck tarpaulins, the tarpaulins are used in other areas such as home construction, gardening, equestrian sports and even fashion. Practical for everything that needs to be safely protected from moisture, wind and storms. And you can also print it easily to use the tarpaulin as a promotional product.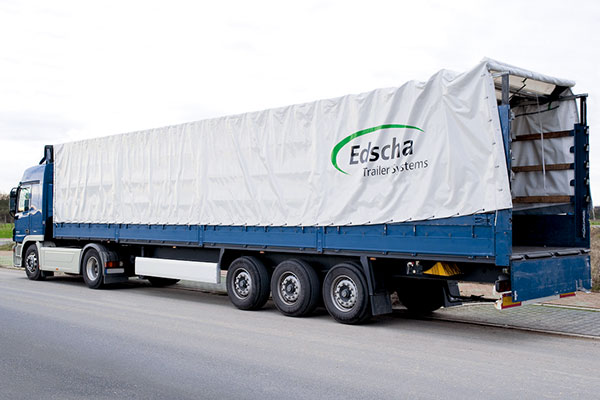 Plan more security
Back to the BKTex specialist group, whose objective is to bring many already existing regulations, DIN standards, but also current information and new findings practically to a common denominator. And to make them verifiable. The new guideline therefore sets out clearly defined minimum requirements for sliding tarpaulins with load securing properties. First of all, the tarpaulin must be manufactured in accordance with the principles of DIN EN 12641-2. To obtain BKTex certification, the tarpaulin is then subjected to extensive inspections and tests.
Clear specifications
The minimum requirements for the tarpaulin material and processing are very high right from the start. This starts with tear resistance, continues with adhesion and dimensional stability, and extends to properties such as buckling resistance and fire behavior. The test procedures and measuring methods are also specified. These include static compression tests, in which the tarpaulin segment to be tested is symmetrically divided between two vertical belts and then subjected to a further horizontal load. So-called dynamic frequency tests are also carried out, in which the tarpaulin is virtually "sonicated". The testers call this "impinging." After the tests are completed, a test report is issued confirming that the requirements of the directive have been met.
Making theft more difficult
The guideline also covers theft-deterrent tarps. These are tarps with additional security features, such as incorporated wires (diameter approximately 1.5 mm) in a 150 x 150 mm grid. Anti-theft tarpaulins do not provide complete protection against forced entry into the vehicle. Therefore, tests are carried out in the guideline, the results of which can be used to classify tarpaulins in comparison with those without anti-theft effect against burglary. Based on practical experience, the anti-theft function of the tarpaulins should extend from the lower edge to a height of at least 1,800 mm and should be present over the entire technically possible length/width of the tarpaulins. The original tarpaulin properties must not be impaired by the additional anti-theft equipment.
Variety with a system
It can be seen that the production and assembly of tarpaulins in accordance with the guidelines drawn up by the BKTex specialist group leads to greater quality and safety for individual applications. Each of the tarpaulin and cover specialists involved contributes their accumulated experience. For all of them, it is important to always keep an eye on the big picture so that one thing fits the other. More about the work of the ITRS e.V. can be found on the Internet at https://itrs-ev.com and the brochure at https://itrs-ev.com/ueber-uns/richtlinien/. Brochures and guidelines can also be requested from the office.