The difference
The term "startup" is heard at all levels in the business world these days. And of course, a startup is initially just a newly founded company. But one with special characteristics. Startups usually have a highly innovative business idea that has yet to be adopted and grow. Sometimes, however, startups are created simply by adapting a long-known service to the possibilities offered by the Internet. They are financed by investors who bet on the growth of the product or service. This is how platforms are created on the Internet where people can "live well" digitally. There are also a large number of innovative startup companies in the logistics sector. The majority of startups focus on technologies for the logistics of tomorrow.
Fascination with technology
Even the founder of a "conventional" logistics company" will rely on state-of-the-art technology at all levels of his company. This includes not only climate-friendly trucks with future-oriented drives, telematics applications for route guidance, goods security or organizational processing. The ever-advancing digital "revolution" saves time and money and helps ensure the company's profitability.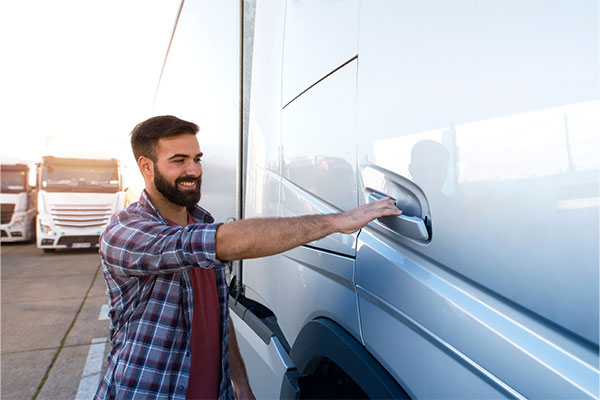 What do I want?
Regardless of which form of start-up you are dealing with, you both need to answer the question of which basic idea forms the basis of your new company. What do I want my new company to achieve and how do I position it? To do this, you also have to analyze your competitive environment in detail and look around to see what the competition in the area has to offer. Above all, you should not only look at your strengths, but also work out where your own weaknesses lie. The opportunities and risks of all current plans must be evaluated. Startups must proceed similarly and check how viable and innovative their idea is for other logistics companies or even the entire industry.
In the middle or on the outside
When it comes to the question of location for a logistics company, location is certainly important. Perfect transport connections are a first prerequisite for success. Especially when you have to deliver quickly, but also be accessible quickly, depending on the service the company offers. And, of course, the customers for whom one works and drives.
Personnel
It is also important to have the right personnel for the company. The number one place to start is the Internet, with its major recruitment sites such as Stepstone or Indeed. You should also check which personnel consultants (local or regional) specialize in logistics companies and may have personnel available. Of course, you can also ask the employment agency. When selecting personnel, you should remember that it is not only technical knowledge that counts, but that the person must also fit in with the company on a personal level.
And who pays?
Now we come to the exciting question of who will pay for everything that is planned. Who pays for the dump truck, for example? Who pays for the hall and the warehouse, who pays for the office space, who pays for the other "little things"? The fact is that first of all you have a lot of costs and only a few revenues. Therefore, one should prepare a concrete financial plan that gives an overview of the costs and the current situation. Advice on financing is offered, for example, by the chambers of commerce and industry or the chambers of trade, the employment agency or the local business development agency. Your tax advisor may also be able to help. Incidentally, there are also a large number of special agencies that specialize in business start-ups. A look on the Internet provides information.
Funding and grants
The above mentioned helpers usually also know where and how to find and "tap" funding sources. There are plenty of EU funding pots. Clever financial agencies also know about a wide range of possibilities. It is a bit complicated. Still, it's worth the effort. For example, for subsidies for modern Edscha TS soft top systems (depending on vehicle type) All subsidies and grants must be applied for in advance. So good planning is a plus here. In the case of start-ups, by the way, private investors usually bear most of the risk and start-up costs.
A breath of fresh air
Whether it's a new logistics company with ten state-of-the-art vehicles or a logistics startup with new software that can plan and handle routes even faster, they bring a breath of fresh air to the industry, strengthen competitiveness and demonstrate how important logistics is to our economy.