A desperate search for truck drivers
It is already clear that truck drivers will be a rare species in the future if no countermeasures are taken in the foreseeable future. The reason for this is a massive and increasingly severe shortage of drivers. There is currently a shortage of between 45,000 and 60,000 professional drivers in Germany. This has been calculated jointly by the German Road Haulage, Logistics and Waste Management Association (BGL) and the German Freight Forwarding and Logistics Association (DSLV). And things are expected to get even worse in the coming years: In its latest study, the International Road Transport Union (IRU) forecasts a gap of 185,000 drivers in Germany alone by 2027.And another figure that highlights the problem: Every year, around 30,000 drivers retire in Germany and only 15,000 young drivers move up.
We can't do without truck drivers
Of course, there are many reasons for the shortage of drivers. The main reason is that the majority of German citizens regard truck drivers as indispensable and future-proof. On the other hand, the truck driving profession itself is perceived as less and less attractive. This is due, for example, to issues such as the compatibility of family and career or the climate debate, in which trucks are often portrayed as polluters. A not exactly lavish wage level also leads to a poor image of the entire industry overall. Even the image of truckers experiencing freedom and adventure on lonely roads is no longer appealing. The problems have been recognized, but too little is being done to solve them.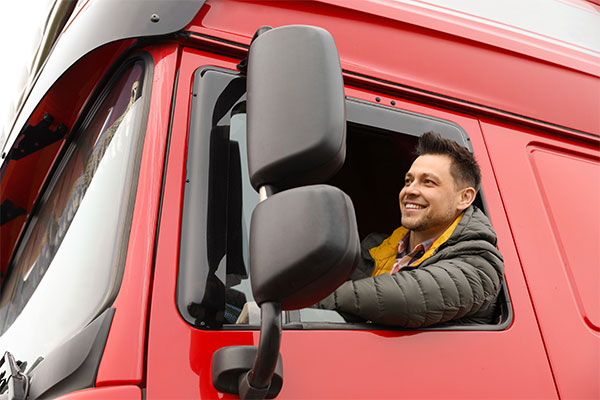 Securing the future of logistics companies
So it is time for logistics companies and many other industry-related firms (including politicians, of course) to ensure a fundamental change in the image of the driving profession. The shortage of qualified truck drivers can only be solved with junior staff who drive a truck "professionally for the long term". Because where the HGVs roll, they secure the economic future of the companies and guarantee supplies in important areas.
Many ways to become a truck driver
But how does one become a truck driver? While 50 years ago a simple truck driver's license was enough to drive a fully loaded truck all over Europe, the requirements for truck drivers have increased enormously. Training, for example, has been extended from two to three years to meet growing qualification requirements. This can be seen in the classic training to become a professional driver, which takes place both in the training company and at the vocational school. For this, one needs at least a secondary school certificate. It is also possible to obtain a truck driver's license during training.
Another way is to retrain as a professional driver, which takes about 2 years. If you already have a class C, CE, D, C1, C1E, etc. driver's license, this time can be shortened. You should ask the employment office about retraining options and the associated costs beforehand.
In principle, the following applies to all training paths: Nothing works without a truck driver's license. After all, trucks are part of road traffic. And it is primarily a matter of safety. Truck drivers must therefore also complete training courses at regular intervals in order to drive in certain areas. Exception: Anyone who obtained their driving license for classes (2, 3, C1, C1E, C, CE, D1, D1E, D, DE) before September 10, 2009, is considered qualified by the legislature to work in freight or passenger transport.
Drivers from third countries
In addition to employing truck drivers from EU countries who are allowed to drive a truck under EU rules, there is another option open to companies looking for a job. They can employ so-called third-country nationals as truck drivers in Germany, even without formal training, if the employment office has approved this employment. Such approval requires an EU or EEA driver's license of class C1, C1E, C, CE, D1, D1E, D or DE and the EU or EEA (accelerated) basic qualification as a driver of certain motor vehicles for the transport of goods and passengers. In addition, there is a whole series of regulations to consider, which should also be clarified with the employment office.
A tough but rewarding job
The job of a truck driver is not and will not be an easy one, but it is immensely varied. Gradually, many management tasks will fall to the driver. Modern technology will help him in this. For example, with innovative logistics programs for delivery and handling. And the technology surrounding the truck will also make it possible to do the job faster and easier. This includes the handling of future-oriented soft top systems from Edscha TS. Anyone who drives through the country with such a system knows how fast and safe loading or unloading is thanks to Edscha TS technology. Easy and uncomplicated operation included.
14 pounds are a stone
Back to England, where the British are currently having to get used to things in other respects as well as empty shelves. That's because the UK is once again allowing the exclusive use of old weight units such as pounds or ounces. If they want to join in: 16 ounces is a pound, 14 pounds is a stone. No kidding!