In demand - speed and safety
Loading ramps are points of approach for the transport of goods. And for many drivers it is quite a nuisance when, after a long journey, there are sometimes very long waiting times for the trucks. The reasons are very diverse. It may be that there are generally too few loading ramps for the approaching trucks or that there are no employees available to handle the load. It is also a fact that the majority of drivers have to unload their cargo themselves. Here EdschaTS offers a tailgateTailWing for sliding roofs, which makes opening the complete rear loading area easier, safer, faster and more convenient. However, since loading ramps are not only used for loading and unloading, but also for depositing or storing goods and, if necessary, for sorting or checking work in these areas, there is a further potential for great displeasure among drivers. In addition, there are also safety problems. For example, if an employee unintentionally falls off the loading ramp while shunting the truck and is hit by the truck. Such accidents, which fortunately usually only end with bruises or contusions, are not so rare. For the logistics company, all these situations result in economic problems, true to the motto "time is money".
Requirements of the professional associations
But how do you turn an actually simple facility like a loading ramp into a logistical power station? It should already start with planning and construction. The responsible professional associations provide good tips and guidelines based on the workplace ordinance, among other things. Loading ramps usually correspond to the dimensions of the means of transport and the load. The minimum width of loading ramps is 0.80 m. In addition, the loading ramps have at least one exit. The exits are designed as stairs or as inclined surfaces that are safe to walk on or drive on. Stairway openings within ramps are secured in such a way that users cannot fall and vehicles cannot tip into the stairway openings. If they are more than 20 m long, the loading ramps have an exit at each end area - as far as this is operationally possible.
There are also safety requirements for employees. Employees who work in the loading ramp area should be appropriately trained and well informed about the dangers that arise.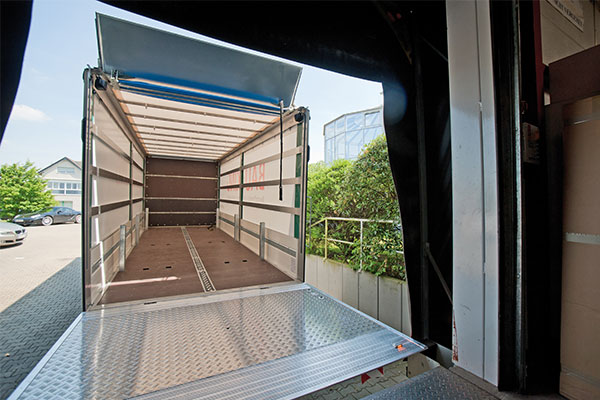 Well informed drivers
It is clear that on the other hand, truck drivers must also be informed about how to approach the ramp and the dangers involved. It can't hurt to know a bit more about the area beforehand - as far as possible. Other tasks include securing the truck against rolling away unintentionally and paying careful attention to what is happening on the ramp and how close you can get.
Clever solutions for fast and safe loading and unloading
Special care is also required when opening the tops. At the very least, a visual check should be carried out beforehand to ensure that the load has not slipped, for example. For trucks that have to load or unload goods from the side, Edscha TS has developed side tarpaulin rollers, which make pushing the tarpaulin very safe and convenient thanks to their special design. Thanks to its smooth running, the tarpaulin slides to the side without much effort. Since single rollers can also be exchanged, this solution is very economical if side tarpaulin rollers have to be replaced.
The ideal solution would be if...
New technologies and the ongoing digitalisation in almost all logistics areas will place ever increasing demands on the loading ramp. Loading and unloading will become increasingly technical and autonomous. However, whether all loading ramp problems will go up in smoke can only be clearly answered if all partners in the logistics chain pull together and develop new ideas.