Efficient solutions
Edscha TS sees itself as a sustainable company with solutions for safe and efficient transportation throughout road and rail transport. This also includes industrial applications and also industry solutions that are also designed to support the achievement of sustainability goals in the areas of climate, safety, people and society. Constant dialog with customers, permanent analysis of the value chain and new technological ideas are the basis for the high demands placed on our own actions.
Recyclable roof tarpaulins
Edscha TS is using four impressive examples to show how sustainability can be implemented in the field of soft top technology. New roof tarpaulins made of PP, which are 100% recyclable and have no loss of quality or service life. They are UV and chemical resistant and up to 40% lighter than PVC. The new tarpaulins can be adapted to all CS roofs and can also be installed cost-effectively by the customer. On request, the tarpaulins can be supplied together with the canopy kit.
Fabric roof bracing
Another example is new roof bracing with universal lengths for greater safety in individual applications and repairs. The roof bracing consists of fabric tape with an open end and can be easily adapted. As clamping element, this roof bracing is safe and proven. Function and force transmission are the same as with the version with steel cables. This means that the product can also be used in vehicles with certifiable EdschaTS-XL roof bracing. Last but not least, the fabric strap allows for practical storage.
Tarpaulin fastening and reinforced joints
Further developed professional assemblies and roof tarpaulin fasteners will also noticeably reduce tarpaulin wear in the future. This will also significantly improve the sealing of the tarpaulins. The new technology will also enable reinforced bows.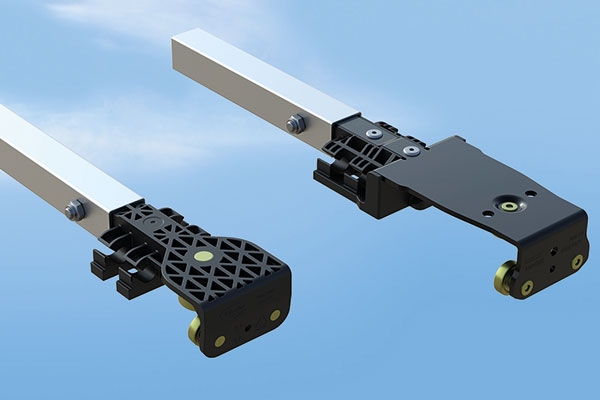 Optional: Bolted bows for CS-Hybrid and VP-Standard
When the bows are bolted, the roller carriage-bow connections will soon also be able to be separated for repair and recycling. The roller carriages can then be replaced individually, as can the bows. The width can be adjusted in the process.
The company's future under control
In addition to the issue of sustainability, the further development of soft top technologies also plays a key role in the corporate future of Edscha TS against the background of the current climate and energy crisis. The company considers itself well prepared for this. Incidentally, this is also how it is perceived by the public. In addition, the further expansion of digitalization, better customer service and customer loyalty should ensure further growth. The high functionality in everyday practice as well as long durability and reliability make Edscha TS convertible tops a worthwhile investment for the future. Especially when it comes to sustainability.
More information on sustainability here