Commitment counts
All good things come in threes, and perhaps soon in fours. What is currently voluntary may soon become mandatory. But it will also depend on developments in politics and society. What is certain is that certain so-called system-relevant groups must be given special protection. These include, for example, all those who do the hard work in our healthcare system, law enforcement agencies, and even our truck drivers, who maintain the supply chains and thus the supply. It's hard to imagine what would happen if many drivers were down due to a Corona infection. We need to thank all of these people who are going above and beyond to do their jobs during this difficult time for their special dedication.
Up-to-the-minute information
Drivers who have to navigate the Corona rule jungle don't always have it easy. In Germany alone, 2G or 3G makes your head spin. Or is it 2G+? What testing obligations do I have to fulfill as a driver? Am I allowed to drive unvaccinated? When crossing European borders, it gets a little more complicated. Because each country has its own regulations, which - by the way - can also change from one day to the next. It helps to find out about the current rules beforehand. For example, on the Internet pages of the Federal Ministry of Transport (https://bmvi.de), or daily updated the media on site (newspapers, radio, TV).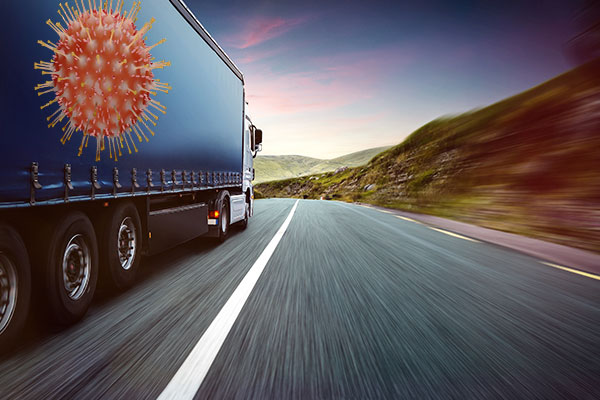 Testing
Truck drivers currently need a valid 3G proof for their tour, when they drive the vehicle to the customer. In addition to the vaccination card, the Corona-Warnapp can also be used as proof if the vaccination certificates are stored there. Because all of this takes time, logistics industry experts recommend that the companies involved coordinate regulations with their customers at loading and unloading points. Especially in long-distance transport, it is often practically impossible to present certified tests at any time. Incidentally, according to the Infection Protection Act in force since November 24, 2021, drivers who have neither been vaccinated against the Corona virus nor recovered from a Covid 19 infection must present a negative test every day.
Identifying signs
The best protection against the virus is to wear a mask, keep your distance and practice hygiene, such as washing your hands often. As a mask, one should rely on FFP2 masks, which are available not only in pharmacies, but also in common drugstores. Experts also recommend keeping a few quick tests on hand for safety. These can help, for example, if you notice symptoms that match the virus but you could also have the flu. The most common symptoms of infection are fever above 38 degrees Celsius, cough, runny nose, headache, aching limbs, fatigue, and scratchy throat. Some individuals experience a temporary loss of the sense of smell and taste.
Corona everyday life
The work has remained the same, but the daily routine has changed significantly for truck drivers. The additional tasks that serve their own health as well as the health of the people with whom we live and work already place a heavy burden on drivers. Stress increases, for example, when drivers find rest areas or parking lots along the highway that are so not in compliance with the rules. Or tests are required where the test sites are difficult to reach by truck. Or tests are not feasible because they are difficult to integrate into logistical scheduling.
Mask while driving?
Do I have to wear a mask while driving because of Corona? No, there is no nationwide mask requirement for driving. However, experts recommend wearing a medical mouth guard when driving with a non-household person (even a colleague). From a legal point of view, however, one should not cover the eye area. The driver must remain recognizable. And one more thing on the subject of masks: the Federal Ministry of Transport is planning a regulation according to which in future there must be two mouth-nose coverings in every motor vehicle first-aid kit - irrespective of the corona position. It is currently unclear when this will come into force.
De-Minimis promotes Corona rapid tests for truck drivers
The De-Minimis funding program has since been expanded to include funding for many Corona prevention measures. Corona quick tests are eligible for funding, but the funding is also linked to certain conditions. If these are all met, the subsidy for the Corona tests amounts to 80% of the net expenditure, also including possible shipping costs. More info at https://www.deminimis.info/blog/3g-und-corona-test-nachweis-fuer-lkw-fahrer-wann-notwendig-und-wie-gefoerdert/