Learned is learned
There are things that are learned and that are usually just done without much thought. For example, wearing seat belts while driving, putting on a high-visibility vest, or putting on a helmet on the job site. Then there are the rules that sometimes tend to be forgotten. Adjusting the mirrors, for example, or whether the hood is properly tightened. The lack of important transport documents is also often overlooked. And what is a compulsory task for every airplane pilot should also apply to truck drivers: The all-round check of the vehicle before starting the journey. This saves time and trouble if the worst comes to the worst. In addition, the vehicle driver is obliged to drive in road traffic with a functionally safe truck.
Acting prudently
Interestingly, however, a large proportion of workplace accidents occur where you least expect it: When getting into or out of the cab. A single lapse of attention can result in bruises or even a broken bone with a cast on the leg. So be careful when getting out of the cab, use handholds and ladders, and above all don't just jump out. Drivers and operators must be particularly careful when reversing or maneuvering. It is better to look too much than too little. And even if your cell phone rings, don't let it distract you.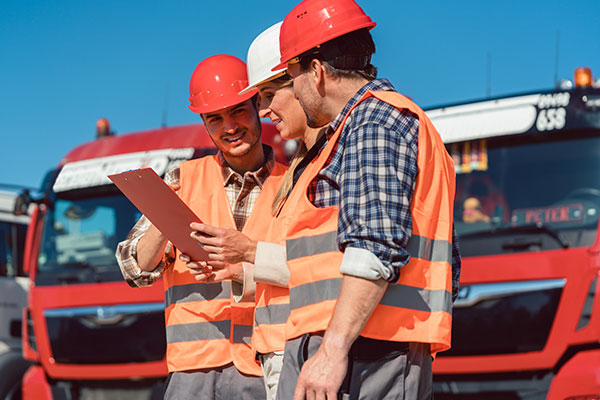 Load safety has priority
Securing the load in a truck is prescribed by law in the Road Traffic Regulations (StVO). There are numerous standards and guidelines that must be observed. In general, the load must be secured in such a way that it cannot slip or overturn. This also applies in the event of emergency braking, sudden evasive maneuvers or poor road conditions. Incidentally, police and customs also check the extent to which the load is secured during truck inspections. If violations are found, "hefty" fines can be imposed. In addition to the regulations in the STVO (German Road Traffic Act), the guidelines of the VDI (Association of German Engineers) and the German Accident Insurance Association (Deutsche Unfallversicherung), you can also find individual tips on load safety for the economic sectors represented by the BGs. For example, a load of televisions or beer barrels will have to be secured differently from the transport of wood or steel plates. The transport of sand, chippings or building rubble is also subject to different securing regulations tailored to the load.
What tarpaulins do
Modern roof systems, for example from market leader Edscha TS, also help to meet the high requirements for occupational safety and load security. Take "TipperRoof", for example, which was specially developed for commercial vehicles such as dump trucks that are in tough use day after day. "TipperRoof" is operated from the ground and is therefore very quick and safe to handle in terms of high occupational safety. The top is always closed, even when the vehicle is empty, to reduce CO² consumption. Another advantage of "TipperRoof" is that the roof system can be used/retrofitted on almost any body.
Different cargo, different roof system
Curtainsider roofs are suitable for many reasons for bringing a load onto the vehicle quickly and without problems using a forklift truck. If the side tarpaulins are pulled completely to the front, the entire free area is clearly available for loading. The "CS-Profi" and "CS-Hybrid" curtainsider tarpaulins from EdschaTS are optimized for frequent loading or unloading from above, even when the roof is wet with rain.
Always carry a safety kit
Last but not least, you should find a so-called safety set on every truck. This includes the already mentioned things like helmet, warning vest, warning lights, a tested, complete first aid kit, a fire extinguisher, warning cones up to a fully charged mobile phone. It is important to note the default!