A look at the figures
According to the latest figures from the BGL (Bundesverband Güterkraftverkehr und Entsorgung - German Road Haulage and Waste Disposal Association), Germany has a shortage of around 60,000 to 80,000 truck drivers. This gap is growing by around 15,000 a year, and since there is also a shortage of tens of thousands of drivers in the eastern EU states, it is currently not possible to recruit sufficient personnel from there either. The situation is further aggravated by the fact that around 30,000 drivers retire each year. The annual number of new drivers, on the other hand, is only between 13,000 and 17,000, which means that the shortage of drivers is increasing in purely mathematical terms.
Restoring the attractiveness of the profession
The attractiveness of truck driving, which used to be great, is currently declining. The number one reason is that the profession is not exactly considered family-friendly. The working conditions are not exactly conducive to attracting more drivers. Much of the driver's life takes place in the vehicle and at rest stops along the highway. In addition, drivers are under enormous time pressure due to increasingly tight tour schedules. Financially, truck drivers aren't exactly "spoiled" either. Nevertheless, pay can vary quite a bit. As a rule, this depends on the size and the scope of duties of the respective company. Whereas the driver of the past was a cowboy of the road, today he is a "high-tech man", because the driver's cab is increasingly becoming a high-tech control center. This, however, significantly increases the demands on future drivers. The personnel decision for a driver is thus also becoming more difficult for the trucking companies. Last but not least, freight forwarders also have to operate in a market environment in which many German companies are clearly struggling with Eastern European competition.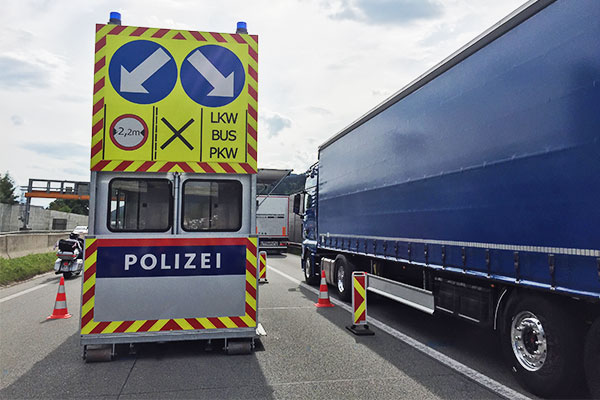 Less loading space capacity
A truck that cannot drive due to a lack of drivers is not simply one less truck on German roads. In economic terms, it is primarily its cargo space that is missing, which would otherwise have been available for transporting goods. Ultimately, this means a shortage of cargo space, with high demand being matched by an ever-decreasing supply. The math then looks like this: Fewer drivers = Fewer trucks driving = Less loading area/cargo space = Fewer transportation services. The result: Functioning supply chains are interrupted, there are delivery delays, e.g. at supermarkets. Some goods will then be looked for in vain on the shelves or will not be received until later.
In search of solutions
According to many observers, the industry must now present solutions in the relatively short term. The companies must present themselves more attractively and value the work of the driver appropriately. It must be shown that yesterday's work no longer corresponds to today's job description. Edscha TS, the market-leading manufacturer of tarpaulin systems, has shown in its special field that tarpaulin system technologies are constantly being developed to meet the requirements of tomorrow. An example from practice for practice. It's about time.