Quick problems – quick solutions
Of course, a roof system cannot avoid all problems when in hard daily use. This is particularly true for dump trucks, as the frequent opening and closing creates enormous stress. At the same time, the requirements for reliable sealing and long service life are constantly increasing. Once in a while – due to time constraints, for example – daily use puts increased demands on the tarpaulin. This can quickly create a tear in the roof system or break a strap. Ignoring the problem and continuing to drive without repairing the tear is a costly solution, in the long run. Sooner or later, it might not be possible to just fix the minor damage, but instead it may be necessary to replace the entire tarp.
But, what about when you are under pressure and have to get back on the road quickly? Many drivers always have a roll of fibre adhesive tape in the cab – always useful for a quick solution. This may help to keep the affected area from tearing further, but it is not a permanent solution. Some drivers stick a patch on the tear, which they then sew with needle and thread. However, sewing is only worthwhile if the material is not thick. There are complete repair sets available for "emergencies".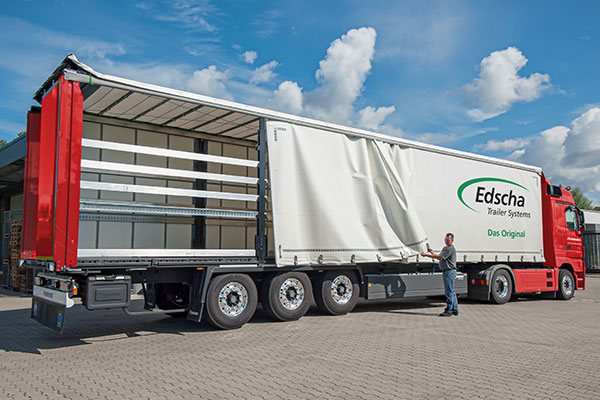 Repairing the tarpaulin with hot air
We recommend hot air for the repair of big holes and tears. Hot air is used to weld a piece of tarpaulin onto the tarpaulin. To perform the repair, you need a hot air device, a piece of tarpaulin for a patch, and a pressure roller. First cut the patch to size and place it in the middle of the torn section. Carefully use the hot air blower between the tarpaulin and patch and apply a lot of pressure with the roller so that the melted materials bond. To ensure the best possible repair, apply patches on both sides. You can use the same repair method also for PVC tarpaulins, but you need a higher temperature (around 180 degrees Celsius).
Important: Check the bond points
Damages to the strap fastening points of the tarpaulin are really serious. At a minimum, use a cable tie to secure a torn strap when driving. This prevents the tarpaulin from slipping. However, cable ties as holding straps are only an emergency attachment and should be replaced immediately so that the entire roof cannot become detached. A so-called connection band with woven loops means less stress for you, the driver. If necessary, use the nearest loop. In the case of combined transport and rolling roads, special care must be taken to ensure that all tarpaulin supports are present and intact.
The Internet is also a helpful source of information
Those who do not know how to repair a damaged tarpaulin should contact one of the certified specialist companies, available for example at www.planenreparatur.eu. Of course, Edscha TS also has a comprehensive spare parts catalogue and detailed repair instructions for every soft top system. By the way: artists and young designers are increasingly discovering the tarpaulin material and developing things like bags, for example. Maybe one day your defective tarpaulin will end up as a custom designer object!